Many realities, no limits.
SeniorVR was designed to provide recreational and therapeutic activities, capable of contributing positively to the well-being and quality of life of the elderly, based on several studies that have highlighted its positive impact in everyday life.
Features
A world of experiences in a headset
A potentially endless virtual environment all in a single headset, a world that is easily accessible and waiting to be discovered: this is what we call an "experience".
Through Virtual Reality, the experience is highly immersive and with a very vivid feel, a first person journey in an environment that is totally controlled and absolutely risk free.
Travel, discover, live
From a guided tour in the center of Florence to a relaxing walk in a field of beautiful flowers: one click of the controller allows you to completely change scenery and live new experiences, through high resolution 360 videos and 3D stereoscopic productions.
The senior is free to roam, look around and explore in every direction, for a unique and engaging interactive experience.
Getting the mind's attention
Living a pleasant experience, travelling and exploring in first person is only part of the potential of virtual reality.
Thanks to highly engaging experiences, activities that are aimed at improving motor skills, precision or designed to improve focus, memory and other cognitive skills find the ideal support.
Various studies have shown how experiences in Virtual Reality (VR) can become a very powerful tool to support treatments against the Alzheimer's disease, highlighting its efficacy in increasing one's well-being, in managing pain and for spatial elaboration. Moreover, findings have also shown substantial reductions in feelings of solitude, boredom, depression and mobility problems.
Additional information
Guest Benefits
Improvement of wellness thanks to a continuous brain stimulation
Increase in general well-being thanks to relaxing music and videos
Improvement of the cultural knowledge with educational tours
A higher propension to dialogue when sharing one's experience
Possibility to visit places that are difficult to reach
Advantages for the Retirement Home
Distinguish your services via a truly competitive edge
Add an innovative entertainment solution
Allow visiting outside locations to guests whom are normally limited in their mobility
Provide the service in the place that is the most appropriate in any given moment, both inside and outside the retirement home
Improve the operators' technological skills
Contact us for more information
The service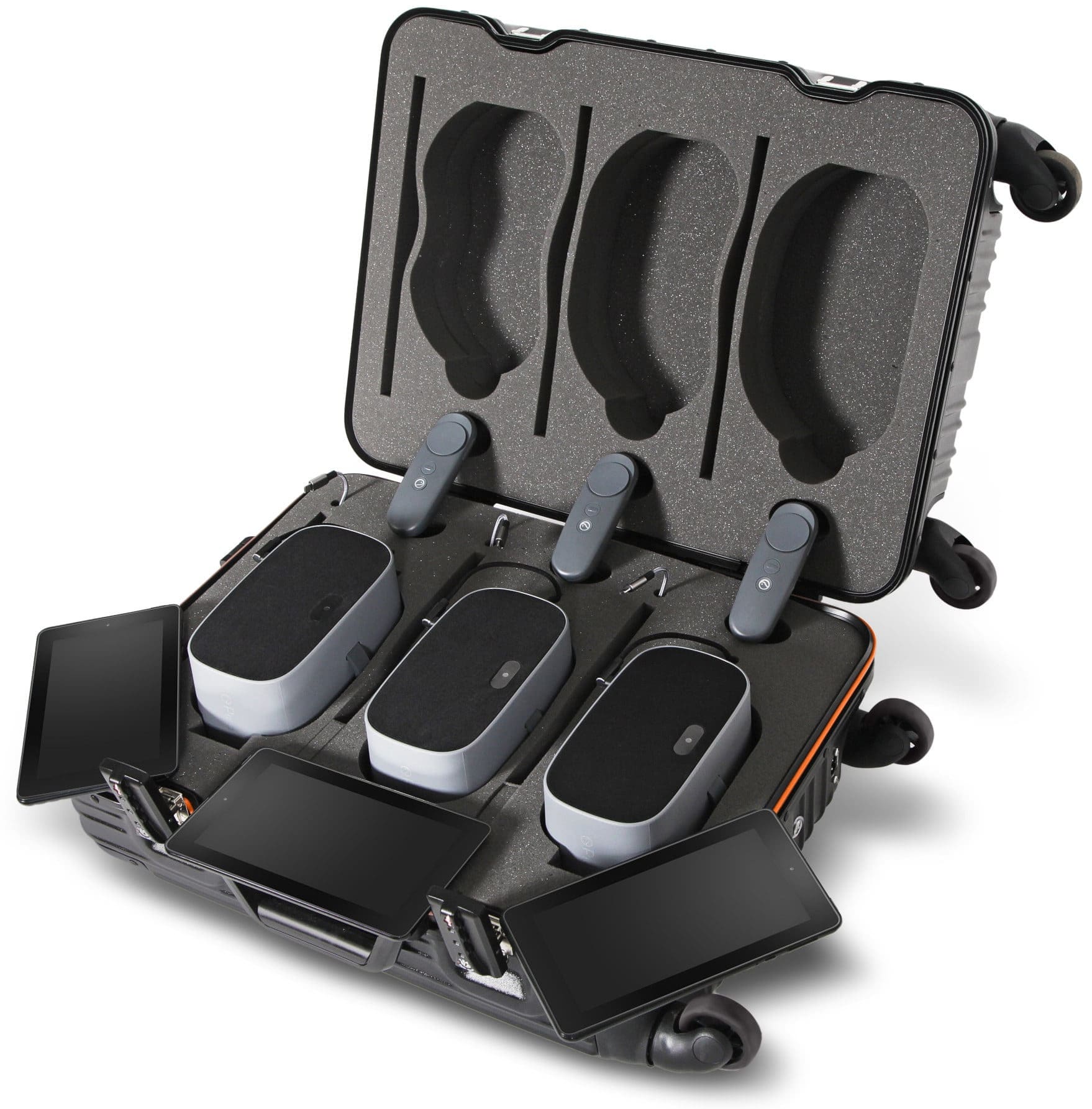 1

Providing a kit composed of
1 x Exclusive Tech trolley with a charging system for up to 3 VR headsets and 3 tablets
3 x VR Headsets
3 x 7" inch Android 7 tablets
2

Subscription to the content download service
Three kinds of experiences:
Relaxing, Travelling, Engaging
Dozens of episodes immediately available for download
New 360 videos every month
Additional 3D Stereoscopic experiences every month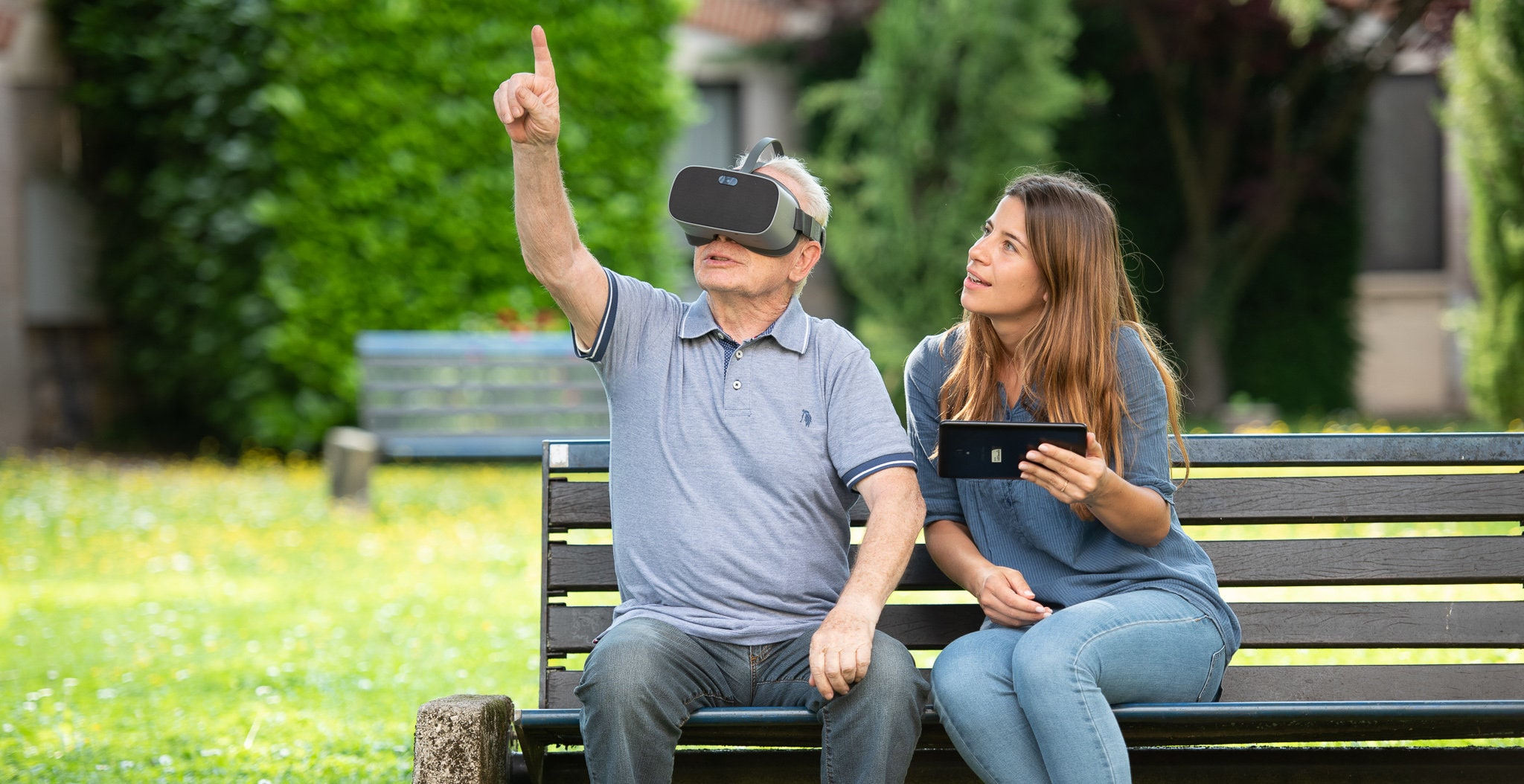 SeniorVR in the best organizations
Educational, entertaining and therapeutic activities
Many engaging experiences, while guided and in a totally controlled environment
A new way to stimulate interactions and sharing moments and memories
An innovative service that is ready to be integrated in the daily routine of any organization